Publications
See also Hannes' Google Scholar page.
Highlights
Tactile innervation densities across the whole body
Corniani G, Saal HP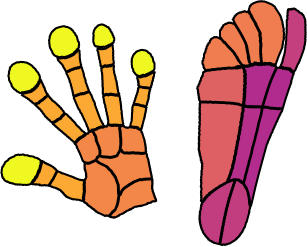 This paper contains estimates for innervation densities of low-threshold mechanoreceptive afferents across the whole body, based on evidence from microneurography, histology, and immunohistochemistry.
Journal of Neurophysiology 124(4), 1229-1240 (2020)
Check out the Supplementary Material for detailed calculations.
Nonlinear scaling of resource allocation in sensory bottlenecks
Edmondson LR, Jimenez Rodriguez A, Saal HP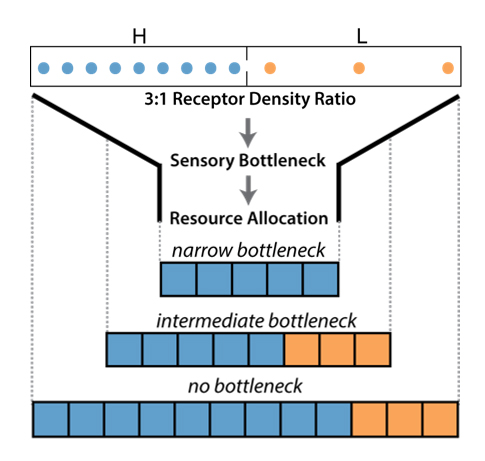 We show that resource allocation scales nonlinearly in efficient coding models, when the width of the neural bottleneck is varied.
Advances in Neural Information Processing Systems (NeurIPS) 2019
Check out the poster and a 3-minute video, where Laura explains the findings.
Simulating tactile signals from the whole hand with millisecond precision
Saal HP, Delhaye BP, Rayhaun BC, Bensmaia SJ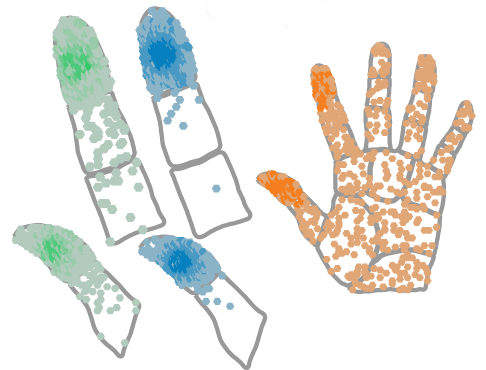 TouchSim is a Matlab package that simulates spiking responses from thousands of tactile afferents terminating on the palmar surface of the hand to arbitrary indentation of the skin
PNAS 114(28), 5693-5702 (2017)
Download the Matlab or Python version of TouchSim or try it out online via myBinder.
Full List
Expansion and contraction of resource allocation in sensory bottlenecks
Edmondson LR, Jimenez Rodriguez A, Saal HP
bioRxiv 2021.05.26.445857 (2021)
Malleability of the cortical hand map following a finger nerve block
Wesselink DB, Sanders Z, Edmondson LR, Dempsey-Jones H, Kieliba P, Kikkert S, Themistocleous AC, Emir U, Diedrichsen J, Saal HP, Makin TR
bioRxiv 2020.10.16.338640 (2020)
Tactile innervation densities across the whole body
Corniani G, Saal HP
Journal of Neurophysiology 124(4), 1229-1240 (2020)
Nonlinear scaling of resource allocation in sensory bottlenecks
Edmondson LR, Jimenez Rodriguez A, Saal HP
Advances in Neural Information Processing Systems (NeurIPS) 2019
The effect of contact force on the responses of tactile nerve fibers to scanned textures
Saal HP, Suresh AK, Solorzano LE, Weber AI, Bensmaia SJ
Neuroscience 389, 99-103 (2018)
Speed invariance of tactile texture perception
Boundy-Singer ZM, Saal HP, Bensmaia SJ
Journal of Neurophysiology 118(4), 2371-2377 (2017)
Simulating tactile signals from the whole hand with millisecond precision
Saal HP, Delhaye BP, Rayhaun BC, Bensmaia SJ
PNAS 114(28), 5693-5702 (2017)